Business Strategy
Our strategy is to focus on advance turbine system design and work in partnership with suppliers and distribution channels to provide to end users with the most clean and energy efficient turbines in the world.
Brochures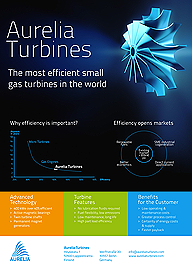 Download PDF English PDFGerman PDF
Datasheets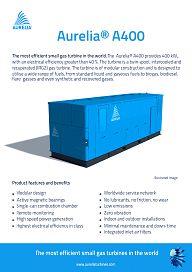 Download PDFEnglish PDFGerman PDFSpanish PDF
Grants and Financial Support
Company is financed by the private investors, such as Greencampus Innovations Oy, Capillary Oy and Holdix Oy, to name a few. Aurelia was one of the first companies in Europe to receive financing from the EU H2020 -program and has also received funding from different financing bodies owned by the local authorities and/or Finnish government.
Aurelia Turbines Oy has received funding from European Regional Development Fund for application engineering development and for manufacturing facility ramp up. Company has also received R&D funding from Business Finland and funding for a market feasibility study from Nopef.

Futurbine Project
The FUTURBINE project aims to support Aurelia's growth strategy by demonstrating and validating the fuel flexibility performance of Aurelia® A400 in a real time operational environment. Furthermore, the project will optimize the company's value chain and launch its innovative integrator partner model and accelerate the commercialization activities for global market entry.
EU The project is funded by the EU's Horizon 2020 SME Instrument Phase 2 program with a grant of 2.3 M€.
The project started in September 2019 and the duration will be 2 years.