Channel Partners

Direct
Direct sales will be used to open new markets and start the initial sales.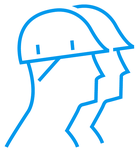 Project Developers
Our products are used by Project Developers, who sell turnkey projects in localised markets.
Announcement coming soon.

Distributors
Our primary channels in a region, fully committed to selling and servicing Aurelia products.
Announcement coming soon.

Integrators
Integrators package and distribute the A400 to meet local requirements.
Announcement coming soon.

Marketing Partners
Marketing Partners are our representatives in new markets and applications who will be the first contact in those sectors.
Greenray & ITS
Greenray Turbines Ltd & Integrated Turbine Systems Ltd provide solutions to both the industrial gas turbine and steam turbine market sectors. Greenray has specialised experience of maintaining gas turbines and rotating equipment for the oil & gas and power generation industries.
Hennlich
Hennlich s.r.o. sells a wide range of industrial components in Eastern and Central Europe through a network of its own branches, and also has its own production plants at individual locations.