Our Story
Aurelia's founder, Matti Malkamäki, worked extensively in the international market for decentralised energy production in the early 2000s. He noticed that the need for combined heat and power production was constantly growing; especially in small and medium-sized industries.
However, the progress of technological development in the sector was slow. Engines have been available for a long time but it is increasingly clear that they would no longer make major technological leaps.
On the other hand, new technologies, including new materials, high-speed machinery, inverters and active magnetic bearings, offered turbine developers enormous new opportunities to overcome unresolved engine challenges. However, turbine developers already operating in the market were most strongly focused on the development of aircraft turbines. The distributed power industry, which requires small turbines, was waiting in vain for new solutions. Where were the turbines that would improve efficiency, lower costs and utilise better alternatives to conventional fuels in power generation?
For a long time, Malkamäki had outlined the ideal future turbine. In 2011, he met researchers at Lappeenranta University of Technology (LUT) and presented his bold vision. Professor Jaakko Larjola and his team had designed and developed high-speed turbomachinery technology for many years, and they were enthusiastic about the plans. Larjola's research team began to test Malkamäki's ideas and combine them with the results of 30 years of experience at the University.
Aurelia Turbines was founded in 2013 to develop turbines in collaboration with LUT's expertise. The aim of the company was to utilise the results of all of that accumulated knowledge to improve the performance of small and medium-sized business enterprises by having access to an advanced gas turbine solution.
Today, a new generation of turbines is being manufactured in Lappeenranta, from where they are exported worldwide. The company is growing fast and aims to become the most significant in its field.
Aurelia Turbines in a nutshell
Aurelia Turbines Oy was established in 2013. We are the first company in the world to utilise IRG2-process in its gas turbines. IRG2 stands for "intercooled and recuperated, generator on both shafts" – this process enables high electrical efficiency. The technology was developed in Lappeenranta University of Technology, Finland. The pedigree of this technology has been established over 30 years of Research and Development in high speed technology and fluid dynamics. We have extensive immaterial rights on the core technology and continue to develop a portfolio of IP protection around the product and its application. The main office and manufacturing facilities are located in Lappeenranta, Finland. We have also offices in Germany and the United Kingdom.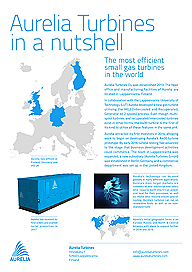 Our Vision
To be acknowledged for delivering the most efficient small gas turbines in the world.
Our Mission
Through innovative design and together with our partners, we manufacture the most efficient gas turbines for the benefit of end-customers around the world to reduce their operating costs, improve their performance, and protect the environment.
Our Core Values
Being efficient
Responsibility
Reliability
Being professional
Commitment to continuous improvement and innovation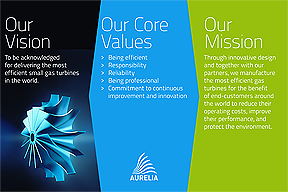 Download PDF
Sustainability
We believe that sustainable development is part of our responsibility for the environment. Therefore, sustainability is enshrined in our values.
Our commitment to sustainability and being a responsible business are at the core of our strategy; these values create the framework of the company's actions and products.
Energy efficient solutions, lifecycle optimisation and innovative solutions, all of which contribute to a more sustainable future in the energy industry.